The Gnome Painting video documents a new painting technique developed by artists Søren Dahlgaard and Tully Moore.
First performed at Gertrude Contemporary Art Center in Melbourne during the opening of the annual studio group show, 2015.
The drawing below illustrates Søren and Tully sitting upstairs in a studio and painting the gnome in the gallery below with 6-meter long sticks with paint brushes attached.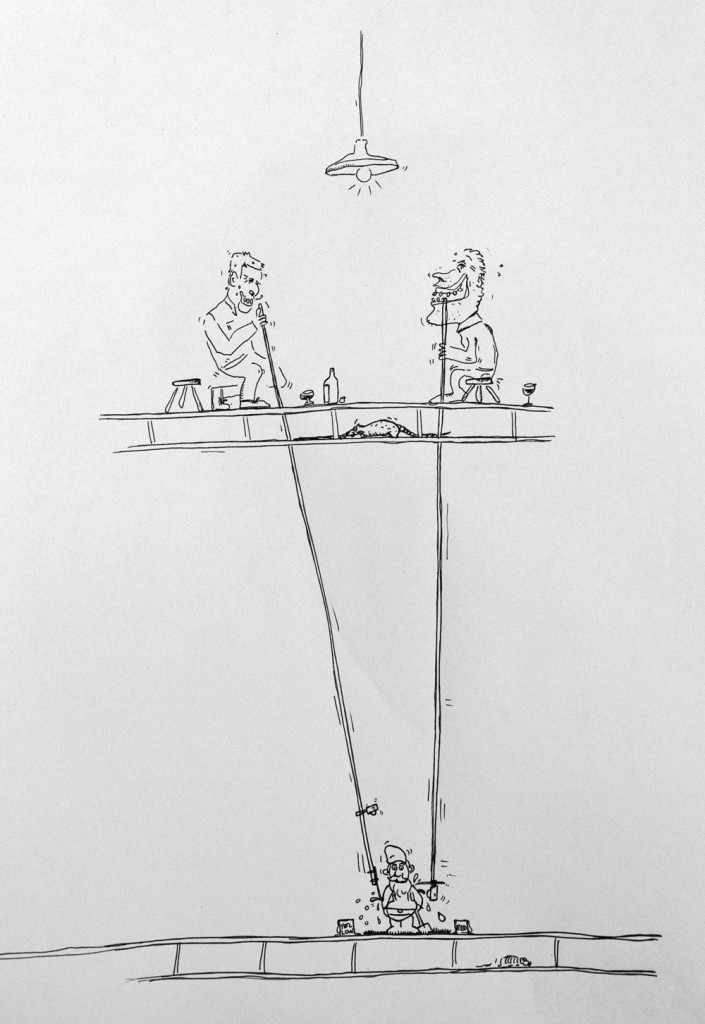 Sketch drawing of the Gnome Painting technique I, 2015.
A second version of the Gnome Painting technique was shown at the Margaret Lawrence Gallery, Victorian College of Arts, Melbourne in 2016. This time, the 6-meter long paint brush sticks were installed horizontally going through a gallery wall into the main gallery space, inviting the audience to climb one of the two tall chairs installed in the hallway behind the gallery wall and paint the gnome with the guidance of a video image feed, from the main gallery space of the gnome placed on a garden totem, displayed on a screen on the wall.
With the aesthetics and dynamics much like video games, this painting technique points to the playfulness of video games and actually creates a real analog game but referencing digital games, while you paint a garden gnome for real!
Images and video of the Gnome Painting Technique II to follow.